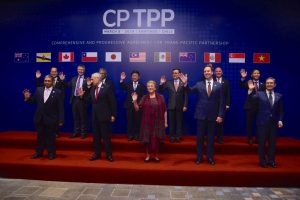 Overview
This website reports analysis of trade policy in the Asia-Pacific region.  It includes studies of the Comprehensive Progressive Trans-Pacific Partnership (CPTPP), its predecessor the TPP, the Regional Comprehensive Economic Partnership (RCEP), and the Free Trade Area of the Asia Pacific (FTAAP). We are a team of academic researchers (Peter A. Petri, Michael G. Plummer and Fan Zhai) and our views do not necessarily reflect those of institutions with which we are affiliated.
Our empirical results are derived with a simulation model built in 2012 and updated in 2016. In recent work we apply this model to new policy scenarios that have emerged since the United States left the TPP.   We gratefully acknowledge support along the way from the East-West Center, the Peterson Institute for International Economics, and the Asia-Pacific Center of the Brandeis International Business School, and, for specific projects from The World Bank and the UN  Development Program.
What's new? 
Our Publications section includes a recent paper on the 11-member CPTPP and on a 16-member enlargement that includes five other economies. The Opinion section includes opeds and the Media coverage section  includes press references based on these results.
Suggestions for this website are appreciated!