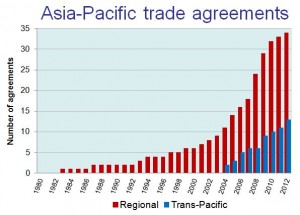 This website provides research papers, results and data from an ongoing study of trade flows and trade agreements in the Asia-Pacific region, with particular attention to the Trans-Pacific Partnership (TPP) and other regional trade initiatives, including the Regional Comprehensive Economic Partnership (RCEP) and the Free Trade Area of the Asia Pacific (FTAAP). The principal researchers are Peter A. Petri, Michael G. Plummer and Fan Zhai.
A comprehensive update of the model used in this study was completed in late 2015 to support the assessment of the TPP agreement concluded on October 5, 2015. Initial papers based on the new model are available on the "Publications" page. Data, detailed model solutions and model components will be added during February 2016 to make the underlying information widely accessible.
The team gratefully acknowledges the support of the East-West Center, the Peterson Institute for International Economics, and the Asia-Pacific Center of the Brandeis International Business School, and support from the World Bank and the UN  Development Program for specific projects related to this work program. Information on this website is generated in our capacity as independent researchers and does not represent the views of any of these institutions.
Suggestions for this website are appreciated!